Eastlake Ministries
Children
At Eastlake, we are passionate about helping kids learn to become disciples of Jesus Christ. Here are some of the ministries we have available for children:
Nursery (Ages 0-2, during services)
Sunday School (3 years and up, Sundays @ 9:15 AM)
BLAST JR (3-5 years, Sundays at 10:30 AM)
BLAST (K-3rd grade, Sundays @ 10:30 AM)
AWANA (Sundays @ 5:30 – 7:15 PM – 2 years to 6th grade)
Vacation Bible School
For the BLAST program:
Ages 3 – 5 meet in the classroom.
Kindergarten – 3rd grade will be dismissed from the auditorium before the sermon.
If you have any questions, please ask anyone wearing an Eastlake or a BLAST lanyard. That's why we're here!
Teens
The ECHO Youth Group at Eastlake is led by the fearless CJ Briner. They meet every Sunday (except during summer) at 5:30 PM and every Wednesday at 6:30 PM.
Ladies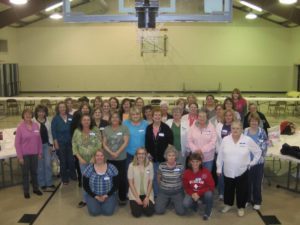 The SOS (Souled Out Sisters) of Eastlake meet occasionally for fellowship.
A group of Eastlake ladies also meets every Tuesday morning to make quilts to send to underprivileged and tragedy-stricken families.
Men
The men of Eastlake Baptist Church enjoy spending time encouraging one another.  The EBC men's group meets once each month, on a rotating basis, for breakfast or dinner.  After a meal, the men hear a devotion from either a guest speaker or another member of the church.  The guys also participate in fun outings that help foster great relationships!
Keenagers (Senior Citizens)
The Keenagers ministry meets the fourth Thursday of each month for a fellowship meal in the church gym. If you're interested in attending, please bring a covered dish or dessert by noon and join right in with the fellowship!
Sunday School
Sunday School is available for kids up to age 18 during the adult Connection Group time (Sundays 9:15 – 10:15 AM). Our outstanding teachers will help your children grow in the faith as you fellowship with one of our Connection Groups.
AWANA
AWANA (which stands for Approved Workmen Are Not Ashamed) is for ages 3 (by August 1) – 6th grade. Clubbers learn Bible verses, hear a lesson, and compete in exciting games.
AWANA meets on Sunday evenings beginning with the week after Labor Day until the beginning of May.
Times: 5:30 PM – 7:15 PM
Dates: September – May
Please arrive at 5:30 and enter through the gym on the east side of the building. Exterior doors will be locked for security reasons at 5:40. If you are running late, please use the front entrance of the church.
Don't miss out on the fun fair, which takes place the week before Labor Day!
Connection Groups
Our Connection Groups are designed to be the nucleus of all that happens at Eastlake. It's easy to get lost in the crowd, but when you meet with your group at 9:15 AM on Sundays you will experience close-knit fellowship and take part in a Bible study. Your Connection Group is your connection to Eastlake.
Don't have a Connection Group? Show up on Sunday morning and someone will help you get plugged in.
Operation Christmas Child
Every year Eastlake helps with Operation Christmas child, sending shoeboxes full of presents to children in underprivileged countries.